Why Is Your AC Blowing Hot Air?
There are several reasons why your home AC may be blowing hot air. We'll go over the different causes, reasons for malfunctions, and troubleshooting for the problem. 
Thermostat Setting
If you've noticed that your AC is blowing hot air, the first step is to make sure that your thermostat system is set to 'cool' and your fan is on 'auto' (if you don't have a whole-home air cleaner). When your fan is on, it's constantly blowing air through your vents. It can be active even when your system isn't cooling the air that's leaving the vents. It's a good way to improve air quality for those with a whole-home air cleaner, but it doesn't do much to cool your home if the system isn't set to 'cool'. This is a common reason warm/neutral air might be blowing through your vents. You should also lower your temperature setting to be at least 5 degrees below what the room temperature says on the thermostat. Make sure your unit's temperature isn't set too high on auto either. Remember to change the setting from 'heat' to 'cool' in the summertime.
Dirty Condenser Unit
Otherwise known as the outside unit, the condenser unit may be the culprit for an AC blowing hot air. The inside and outside unit work together to remove heat from within the home. If there's anything interfering with the system's moving parts (dirt, leaves, tall grass, etc.), you'll need to remove this blockage to get your AC working the way it should. If there's restricted airflow, the condenser coil won't be able to do its job. Use a broom to get rid of visible debris and trim brushes, weeds and tall grass that may be interfering with airflow.

Dirty Air Filter
Since the air filter protects the inside of your AC unit from dust and dirt, it can prevent proper airflow if not properly maintained. Those who live in warmer climates needs to check their air filter once a month. The filter alone won't be the cause of your AC blowing hot air. However, it can add to the problem and reduce cooling efficiency. To fix this issue, turn off the unit, order a new filter or clean the dirty filter, then reinstall the filter.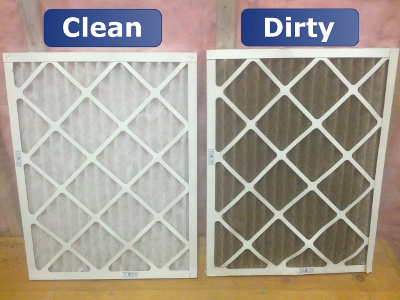 Low Refrigerant
When your AC unit is losing refrigerant, the air blowing throughout your home will not be cool. It's an issue that requires a professional to come take a look at it, because you can't see a leak with the naked eye. Since refrigerant isn't 'used up' over time, low refrigerant indicates a leak. If you don't fix the leak, the refrigerant you add will just continue to escape. These leaks could be caused by a loose joint due to frequent use or perhaps the unit was assembled poorly by the manufacturer. Another common culprit is a worn service valve. This is typically caused by turning on the AC after inactivity all winter. You can prevent leakage by having the unit serviced before turning it on for the summer or right after turning it on.
Leaky Air Ducts
Other leaks can be responsible for AC blowing hot air. Leaks in air ducts can mess up the system's cooling process, so contact a professional to locate the ducts within your walls, attic or basement and seal the leaks. When cooled or heated air leaves through the duct leaks, your AC has to run longer to match the thermostat setting. This means you have a higher energy bill on top of warm air. You'll also have to deal with more AC repairs, hot/cold spots in your home and more frequent filter changing. In most houses, 20-30% of the air moving through the duct system is wasted due to holes, poorly connected ducts and leaks.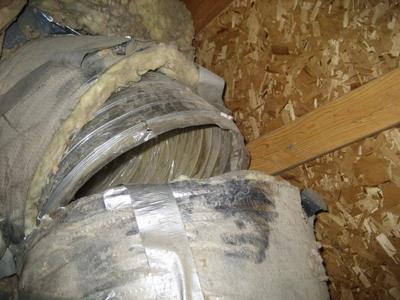 Loss of Power to Outside Unit
When the outside unit loses power but the inside unit doesn't, you might notice your AC blowing hot air. Power can be lost in the circuit breaker (check to see if it got tripped) or an emergency shutoff switch. You'll find this switch on your home's exterior wall next to the outside AC unit. If the breaker switch (pictured below) is your problem, flip it all the way off and then back on. Normally, breakers flip on or off due to power overload. With too much current, it switches off as a safety precaution. If flipping the breaker back on doesn't do the trick, contact an AC Experts technician. In the even that your breaker is dead, an electrician will need to be called in.
Air Conditioner Freezing
Air conditioners can freeze solid into a block of ice, a common reason for your AC blowing hot air.  The part of your AC that's frozen is the evaporator coil. It blocks cool air from entering your home. The motor is what's providing the heat if the fan isn't frozen as well. This freezing occurs when condensation builds up within the unit. If the temperature at which the AC Is blowing falls below 32 degrees, the freezing process begins. Where we see this most often is on hot days when homeowners crank up their AC to the highest setting. To prevent this, keep your thermostat between 70 and 72 degrees Fahrenheit on auto. To combat a frozen air conditioner, turn it off and let it thaw over the span of a couple hours. Then, turn the unit back on again. If the problem continues, you may need to contact a professional.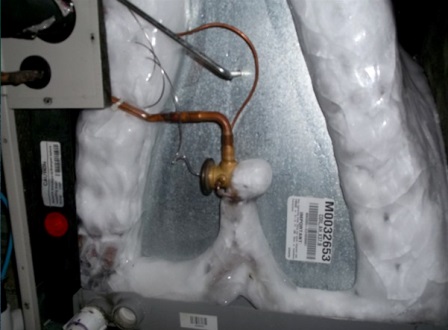 Bad Compressor
Your compressor collects cool, low-pressure refrigerant gas from inside, then squeezes the refrigerant and raises its temperature/pressure.  When this happens, the transformed refrigerant exits the compressor as a hot, high-pressure gas. If the compressor isn't working properly, the whole system collapses. Normally these compressors go out due to electrical failures, overheating and refrigerant coming back to the compressor. Compressors are sturdy parts, typically lasting at least 10 years and into 20. This part can be replaced, though it may be more cost-efficient to just purchase a new AC unit.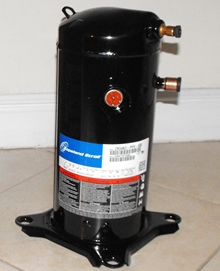 Electrical Problems
If a wire is frayed or damaged, it can cause your AC to underperform or break entirely. Wires can undergo damage from overheating or family pets, so it's important to keep your wires unexposed. AC Experts can take care of your broken wires.
While these are some troubleshooting tactics that you can try when your AC is blowing hot air , we recommend contacting a professional if these tips don't fix the problem. Our certified technicians receive 100 hours of training each year, and we pride ourselves on being the technicians you can trust.
Call AC Experts, Tempe, today!   480-386-6980