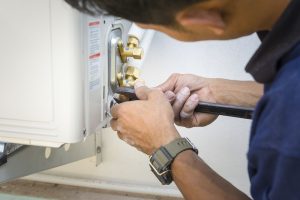 The calendar says fall is approaching. You may even get a little more use from your AC before it's time to switch over to your furnace. If your furnace gave you problems last year, you wouldn't be upset if the warm temperatures hang around for a month or so. It gives you time to think about replacing the old furnace. While you're thinking, add a few thoughts about replacing your AC at the same time. It can be done! Keep reading and learn why you should replace the two together. Don't wait for winter to call a technician who specializes in cooling & heating services in Arizona to come out and walk you through the process.
Save on Labor Costs
One reason Arizona area homeowners replace their air conditioner and furnace at the same time is the savings. If you replace the units separately, you'll pay labor costs twice. Replace together and you only pay one labor charge. A variety of factors come into play when you talk about labor costs, but average costs for furnace installation is around $1000. That's for an 8-hour installation. Maybe the furnace by itself doesn't take a full day, but the project will likely be priced at full day labor. Replace the AC at the same time you take care of the heating installation, and you save around $1000. Keep in mind all HVAC companies have their own price structures so that figure may vary.
Consistent System Performance
Another benefit of replacing your entire HVAC system at the same time is better system performance. If you replace only one part of the system, you run the risk of lowering the performance of both systems. Old and new technology doesn't always play well together. You're pairing a new, highly efficient system with an older component. This doesn't allow you to use the newer technology at its fullest potential. The older unit can also decrease the performance of the new appliance. Why not guarantee the consistent production of both AC and furnace? Replace them together.
You'll Get a More Efficient System
If you moved into an existing home with a previously installed furnace and air conditioner, they're likely both older units. In some cases, homeowners aren't sure of the exact age of the heating and cooling system. It might surprise you to find out even groups from 10 years ago are considered outdated today. As far as efficiency, when you install new units for both the AC and furnace, you'll see significant improvement inefficiency. For example, according to Glenda Taylor, who writes for Bob Villa, average Season Energy Efficiency Ratio (SEER) ratings for AC units manufactured today are between 15 and 18. In 2006 they were as low as 6: the higher the SEER, the more efficient the air conditioner. A similar system is used to measure furnace performance. When you replace both AC and furnace together, efficiency is improved.
These are only three benefits of replacing your entire HVAC system at the same time. If you're still wondering whether you should replace the furnace and AC together, we think the answer is yes. We also know sometimes a homeowner can't upgrade both units at the same time. Whatever decision you make, at AC Experts, we're committed to helping you find a solution that's effective and affordable. Contact us today and request a free in-home estimate:
(480) 386-6980